Our advertising campaign will be on your radio, TV, and billboards along your highways for the next few months. You can also find us promoting Heart Health Month tomorrow with a special event at the Copley Mall and Assembly Row.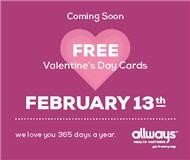 While many people are thinking about Valentine's gifts, we're focused on their hearts. So tomorrow we're giving out free cards that include a Valentine's Day message AND a heart health tip.


On Wednesday, February 13, stop by one of the following locations to say hello and get a free custom-designed card:
Boston
Copley Mall near the Huntington Avenue entrance (look for the heart-shaped kiosk)
7 AM to 8 PM
Somerville
Assembly Row Mall near JP Licks from (look for our trailer)
11 AM to 8 PM

Have patients near any of these locations? Pass along this information so they can get a free card and, most importantly, some important heart-health information.
We're also promoting these events on Instagram and Facebook. Be part of the conversation with the hashtag #loveallways.