On March 13, we announced AllWays on Teams, our partnership with Microsoft to offer a free telehealth app for providers. Now we've decided to add AllWays on Teams to our digital tools for network providers beyond the COVID-19 health crisis.
Since we launched AllWays on Teams, we've gotten an overwhelmingly positive response from our network. For this reason, we're offering this to participating providers even after the end of the coronavirus pandemic — and at no cost.
For more information, visit our resource page. This is where we'll post our FAQ, webinar recordings, and other information as it becomes available. We'll be adding more resources all the time.
Registration for AllWays on Teams is open. Here are instructions for getting started.
Designate a user administrator for your practice
Each practice will have one user administrator. The user administrator will be the person who manages your account. The other two roles are appointment manager and clinician. A practice can have multiple appointment managers and clinicians.
There's a place on the registration form (see below) where you can indicate your role. In some practices, the user administrator may also be a clinician or an appointment manager. If this is the case in your practice, please choose user administrator for your role.
Fill out our short form
The administrator will fill out our quick, easy form to tell us about the people in their practice. You must submit one form per user.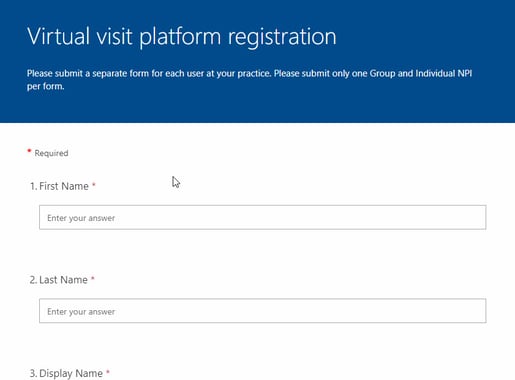 Our quick form takes about 2 minutes to complete
We'll use this information to set up your account and assign your usernames and passwords. If any information is incorrect or incomplete, we'll reach out to you to make sure we can set up your account.
Share account information
Your user administrator will get three emails:
Instructions for how to register your practice. You only need to do this once.
All your usernames
All your temporary passwords. Users will need to update their passwords the first time they log in.
Your user administrator should register your practice and then distribute everyone's account information.
Read our AllWays on Teams FAQ.
What if I'm not a participating provider?
We understand how important virtual care is during the current COVID-19 crisis. For this reason, we'll give new providers access to AllWays on Teams as soon as they complete our letter of interest. You will be able to register your practice in days without waiting to complete the contracting and credentialing process. For any telemedicine visits you have before your effective date, you will receive our out of network rates.
Fill out our letter of interest to get started.