Read the latest updates and information related to COVID-19 from AllWays Health Partners, Partners HealthCare and more.
AllWays Health Partners COVID-19 Provider FAQs
Our COVID-19 FAQs answer your questions on telemedicine, credentialing, prior authorization, and much more. There is one FAQ commercial plans and one for My Care Family. We'll continue to update both FAQs as information becomes available, so make sure to check them often to get the latest COVID-19 policy info.
AllWays on Teams demo for user administrators
Since we introduced AllWays on Teams last month, more than 500 providers have signed up to use the free telemedicine app from AllWays Health Partners and Microsoft. To help make startup even easier for practices, we recently created a step-by-step demo of our Quickstart Guide for User Admins. The short recording shows you how to log in for the first time, set up your account, how to schedule appointments, and more.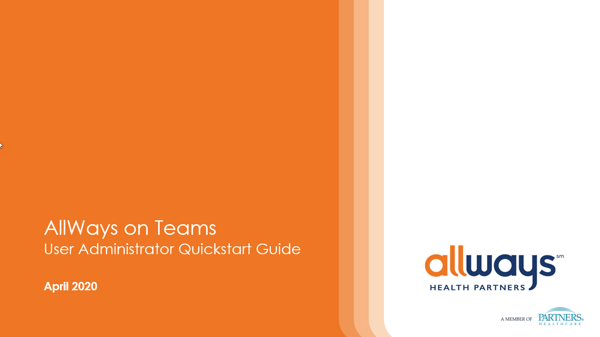 To watch the demo – or to sign up for AllWays on Teams – visit our resource page.
Coronavirus Resource Hub
Looking for the latest in COVID-19 news from AllWays Health Partners? Look no further than our Coronavirus Resource Hub. If your practice offers AllWays Health Partners plans to your employees, the resource hub has information about billing and government support for small businesses. In addition, the page has information for your patients – whether or not they are AllWays Health Partners members, including information about telemedicine access, coronavirus-related scams, and behavioral health services. Check out the Coronavirus Resource Hub here.
CaféWell for AllWays Health Partners members
CaféWell is our member wellness platform which contains the tools and content to help members improve and manage their health. Right now, CaféWell also has 15-minute live webinars with information about COVID-19, many of which are hosted during lunch hours to increase accessibility. AllWays Health Partners can access CaféWell by logging into or creating their member account, selecting "menu" from the navigation, and clicking "browse webinars." Make sure your patients who are AllWays Health Partners members are aware of this helpful resource.
Optum COVID-19 toolkit
Our behavioral health partner, Optum, has created a COVID-19 toolkit for behavioral health providers. This toolkit contains information about policy changes regarding COVID-19 such as prior authorization, the use of telehealth, and other areas. Optum will be updating their COVID-19 toolkit regularly as information becomes available. To learn more, check out the toolkit here.
Partners Healthcare Newsroom
The Partners Healthcare Newsroom shares press releases and articles from across their institutions, including AllWays Health Partners, Brigham and Women's Hospital, Massachusetts General Hospital, and many others. In recent weeks, they've focused on gathering information regarding COVID-19 and the ongoing response to it from across the Partners Healthcare system. The latest posted articles include a round-up of COVID-19 media featuring experts from Partners Healthcare institutions, how MGH and Brigham and Women's Hospital are helping vulnerable communities, and much more. Check out the Partners Healthcare Newsroom here.